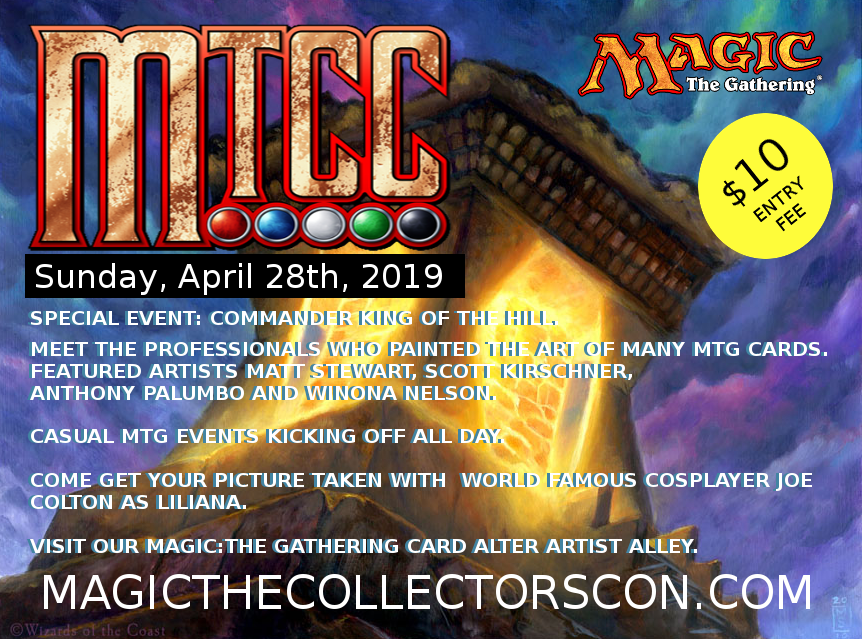 Announcing MTCC 2019!
Check back to our page frequently for updated details about Magic The Collectors Con 2019!
Location: 2175 Marlton Pike W, Cherry Hill NJ 08002 (Holiday Inn Philadelphia-Cherry Hill)
Date: Sunday, April 28th 2019
Time: 8am-5pm
Entry: $10
What should you expect at Magic The Collectors Con? Check out this video! https://www.youtube.com/watch?v=t7Q_uLBacAY&feature=youtu.be&fbclid=IwAR1H_FlJdoeLvGMpGYBb2NfCdgSTEa5-PjdMrMcQXlL1nHwrpy2y5k0rTzM
Raffle events will run every hour from 10:00am-4:00pm. Check back frequently to our page to see what great items we'll be raffling off.
We will be raffling 1 Ultimate Box Topper every hour from 10am-4pm!
8am: Doors Open
8:30am: FREE Commander King of the Hill Event Begins. Players are put into pods of 4 and play a best of 1 game. Winners of their pod advance to the next pod until all other players are eliminated. This event is run as single elimination. This event is capped at 96 players.
Prizes: All players who reach the final pod will receive a booster box of the current standard set. The winner of the event receives an additional booster box of the current standard set.
9am: Defeat the Master Begins. This event will run from 9am-3:30pm. Battle our Commander master in a best of 1 game. If you defeat them you'll receive a booster pack and a raffle ticket for some sweet prizes.
11am: Khans of Tarikir Booster Draft. Entry is $35.
This draft is limited to 16 players. Prizes are based on pod.
1st Place- 1 KTK Bloodstained Mire, 1 KTK Flooded Strand, 1 KTK Polluted Delta, 1 KTK Windswept Heath, 1 KTK Wooded Foothills AND 5 Khans of Tarkir Booster Packs
2nd Place- 3 Khans of Tarkir Booster Packs
3rd/4th Place- 2 Khans of Tarkir Booster Packs
On-Demand Side Events:
8-Player Single Elimination Booster Draft
Entry: $15
Prizes: 1st Place- 8 Booster Packs, 2nd Place- 4 Booster Packs, 3rd/4th Place- 2 Booster Packs
4-Man Commander Pods
Entry: $5
Prizes: Winner of the pod receives 2 packs. Each player receives 1 pack for participating.
2-Man Turbo Events
Entry: $5
Players select a format from the choices below, and then play a best of one match against an opponent who has selected the same format as them.
Prizes: Winner of their match receives 3 booster packs.
Our turbo event choices will include: Standard, Modern, Legacy, Commander.
List of vendors:
Diamond's Mined – https://www.facebook.com/diamondsmined/
The Comic Book Store – https://www.facebook.com/thecomicbookstore/
Phil and Jerry's Emporium – https://www.facebook.com/groups/2036026819797829/
The Bearded Dragon –
https://www.facebook.com/TheBeardedDragonGames/
Moose Loot –
https://www.facebook.com/MooseLootLLC/
Alternate Universes –
https://www.facebook.com/AlternateUniverses/
Husky Entertainment –
https://www.facebook.com/HuskyEntertainmentLLC/?ref=br_rs
Supraliminal Films –
https://www.facebook.com/SupraliminalFilms/
Black Dragon Games –
https://www.facebook.com/BlackDragonGamesMTG/
List of alterists:
Altered Perceptions –
https://www.facebook.com/alteredperceptionsdetroit/
Manipulated MTG –
https://www.facebook.com/ManipulatedMTG/
Hurley Burley –
https://www.facebook.com/HurleyBurley/
Special Guest Artists:
Matt Stewart –
http://www.matthew-stewart.com/magic-the-gathering/
Scott Kirschener –
https://www.facebook.com/Scott-Kirschner-Art-
152197924856288/
Anthony Palumbo –
http://anthonypalumboillustration.com/
Winona Nelson –
http://www.winonanelsonart.com/magic-the-gathering.html